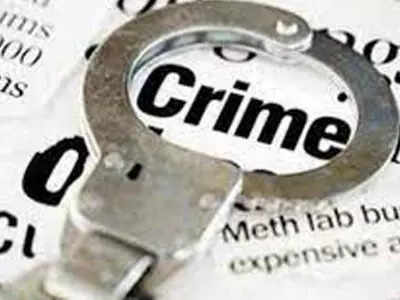 New Delhi: There was a record 28% surge in crimes registered across the country in 2020, though essentially on account of the sharp rise in cases filed over violation of Covid-19 norms, as per 'Crime in India' report for 2020 released by the National Crime Records Bureau (NCRB) on Wednesday.
A little over 66 lakh cognizable crimes, including 42.54 lakh filed under IPC (the highest since 1981) and 23.46 lakh under special and local laws (SLL), were registered in 2020. While IPC crimes registered a 31.9% increase over 2019, the rise in SLL offences was around 21.6%. Crime rate per lakh population (IPC and SLL crimes) went up to 487.8 in 2020 from 385.5 in 2019.
Among IPC offences, those registered under Section 188 (disobedience to order promulgated by a public servant), invoked since March 2020 to enforce Covid norms, witnessed a more than 20-fold rise from 29,469 in 2019 to 6.12 lakh in 2020. Similarly, 'other IPC crimes' rose from 2.52 lakh to Rs 10.62 lakh and SLL crimes from 89,552 cases to 4.14 lakh cases in 2020.
NCRB said that offences primarily relating to violation of Covid norms resulted in 16.43 lakh more cases registered in 2020 than in 2019. Traditional crimes, however, went down by almost 2 lakh, it added.
According to the NCRB data, crimes against women, children and senior citizens; theft; burglary; robbery and dacoity went down on account of strict movement curbs enforced during the Covid lockdown from March 25 to May 31. Murders went up by 1% over 2019, with 'disputes' as the motive behind 10,404 of the total 29,193 murders in 2020. Interestingly, West Bengal, which submitted data for 2020 on time unlike last year, reported just three murders for 'political reasons', less than Bihar (16) and Jharkhand (7). The TMC-ruled state however attributed 114 murders to personal vendetta and 303 to dowry.
Crimes relating to violation of public tranquility went up by 12.4% in 2020, with rioting accounting for 51,606 of the total 71,107 cases registered under this head. Bihar recorded the highest cases of rioting at 9,422, followed by Maharashtra (9157), UP (6126). Delhi, which faced anti-CAA riots in February last year, registered 688 rioting cases through the year, of which 519 were due to communal or religious reasons.
Offences against the State saw a sharp 26.7% dip as compared to 2019, with over 80% of the cases under this head registered under the Prevention of Damage to Public Property Act. As many as 44 people were arrested across the country last year for sedition (Section 124A of IPC), 1,321 under UAPA and 52 under Official Secrets Act.
'Anti-nationals' triggered 398 violent incidents, of which 240 were by Left-wing extremists, 76 by jihadi terrorists, 45 by northeast insurgents and 37 by 'other terrorists'. A total 80 civilians and 73 security personnel were martyred in confrontations/attacks by 'anti-nationals' in 2020, while 55 Maoists, 82 jihadi terrorists and 37 others were also killed.
Economic offences went down 12% in 2020 as compared to 2019, while cyber crimes increased by 11.8% in the corresponding period.
Interestingly, seizures of fake Indian currency notes (FICN) surged over 190% from 8,34,947 notes with face value of Rs 92 crore from 2,87,404 notes with face value of Rs 25.39 crore in 2019.
Chargesheeting rate under IPC crimes improved to 75.8% in 2020 from 67.4% in 2019. States that reported the best chargesheeting rate were Gujarat (97.1%), Kerala (94.9%) and Tamil Nadu (91.7%).
Crimes and atrocities against Scheduled Castes and Scheduled Tribes went up by 9.4% and 9.3% respectively last year as compared to 2019.
Among metros, Chennai recorded the highest crime rate (IPC and SLL crimes) per lakh population at 1937.1, followed by Delhi with a crime rate of 1608.6. Delhi, however, emerged as the 'murder and rape capital', recording the highest 461 murders 967 rape cases in 2020 (5.9 rapes per lakh as compared to 2.2 all-India rate), followed by Jaipur that had 409 cases but a higher rate of 13.3.
A total 3,100 cases were filed in 2020 by State Anti-Corruption Bureaux (ACBs) as compared to 4,244 cases in 2019, showing a decrease of 27%.

FacebookTwitterLinkedinEMail