Axar Patel and Rohit Sharma. (BCCI/PTI Photo)
Left-arm spinner takes 6-38 as England collapse for 112; Sharma (57*) holds key for India on Day 2
MUMBAI: To the viewing eye, the newly laid wicket for the third Test between India and England looked different with each passing over. Depending from which end one was watching the game, the surface appeared to react differently to seam and spin.
To go forward, or stay back was the perennial question. It was in the middle of such confusion that England collapsed, thanks to lack of any footwork whatsoever.
SCORECARD
India bowled well, but England batted worse, bringing along with them the scars of the second Test loss in Chennai, to start the Day & Night Test on a very poor note. By the time twilight struck,
Joe Root
& Co. got wrapped up for a paltry 112 and India took the crease, and looked firmly in control.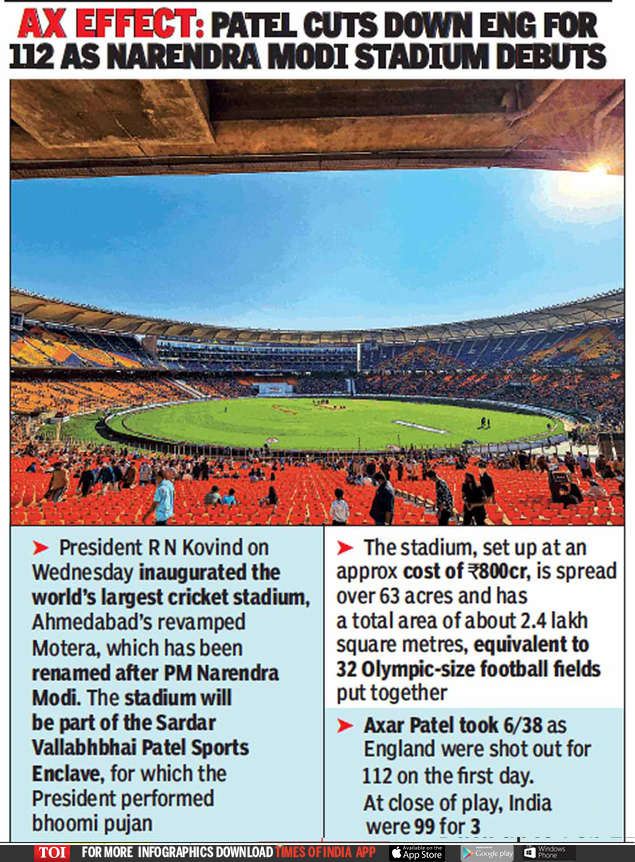 The first day of the inaugural Test at the refurbished stadium in Motera, Ahmedabad, had just given the Indian team fresh hopes of making it to the much-anticipated World Test Championship final later this year before skipper
Virat Kohli
's wicket in the final over of the day to Jack Leach, balanced things out.
India started off well and looked set for a massive opening stand, before Shubhman Gill tried a pull and top-edged Jofra Archer. India's giant No. 3, Cheteshwar Pujara, was trapped in front by Leach five balls later for a duck as he stretched forward and played for the turn but the ball went straight with the arm and struck him on the pad.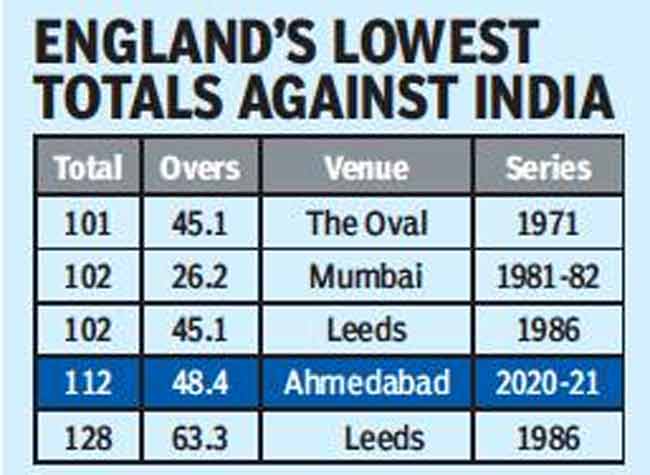 India were 34-2 and the evening looked full of possibilities for England once again before
Rohit Sharma
(57 batting) and Virat Kohli (27) eased things a bit.
It looked like a good toss to win for England and Root probably called it right, electing to bat first. Zak Crawley, to his credit, almost did a Rohit Sharma here in the first session of the game on a pleasant afternoon, batting extremely well for his 84-ball 53, as the ball swung, and soon began turning too.
01:553rd Test, Day 1: Axar, Rohit put India on top against England in pink-ball Test However, as wickets began tumbling at the other end - with India's frontline spinners
Axar Patel
(6-38) and R
Ashwin
(3-26) spinning a neat web - it soon appeared that losing the toss wasn't such a bad thing after all.
England batsmen were guilty of playing from the crease and it hurt them badly. They also played for non-existent turn and saw the ball either hit the stumps or their pads.

The damage began with Ishant Sharma beginning his 100th Test match on a roll, surprising Dom Sibley with the bounce and getting him to edge to Rohit Sharma at second slip. Soon the spinners took over as the ball began turning and bouncing with the odd one going straight, causing the visiting batsmen to freeze.
In Pics: Axar, Rohit put India on top against England in pink-ball Test
Show Captions
Spinner Axar Patel claimed a career-best 6-38 as India bundled out England for 112 on the opening day to put themselves in the box seat in the day-night third Test in Ahmedabad on Wednesday. (BCCI Photo)
Bairstow, Root, Stokes, Pope, Foakes and Archer - they all fell, more or less, in similar fashion.

England's bigger blunder though will be that they went into this game with merely one spinner, while India picked three - replacing Kuldeep Yadav with Washington Sundar, who did not bowl a single over.
Sundar wasn't required to roll his arm over simply because Patel and Ashwin bowled 37.4 of the 48.4 overs between them, sharing nine wickets among themselves.