TIMES OF INDIA
THE TIMES OF INDIA | Feb 25, 2021, 17:52:57 IST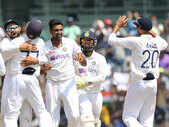 Stay updated with Times of India for Live Cricket Score, ball-by-ball commentary and scorecard of 3rd Test match between India and England.
India and Axar on top!
A 10-for for Axar Patel in only his second Test 🌟 England have lost half their side! #INDvENG ➡️… https://t.co/mM1243hahm
— ICC (@ICC)
1614255450000
Axar gets England skipper! 10 wickets in a Test for local boy!
OUT! Trapped in front! Once again an arm ball from Axar and Root misread it completely. Didn't even bother to go for the review. Axar gets his fourth wicket of the session. 10 wickets for him so far in the match. First 10-wicket haul for him in a Tests and he is only into his second match. Dream start to Axar's Test career. England reeling at 56 for 5 in their second innings.
Pope starts with a boundary!
FOUR! Brave from Ollie Pope! Goes for the reverse sweep against Ashwin and connects well. The ball runs down to the third-man fence. Ashwin wouldn't mind that at all. ENG 54/4
Ashwin traps Stokes in front! Huge moment in the game!
Ashwin finally breaks the frustrating partnership between Ben Stokes and Joe Root. Traps Stokes right in front of the stumps. Ashwin now has dismissed Stokes 11 times in Test cricket. Stokes initially decided to take the review but then went against it. Stokes resistance ends on 26. ENG 50/4
50 up for England!
A couple of singles for England in that over from Axar Patel and England crawl to the 50-run mark in their second innings. England lead by 17 runs with Ben Stokes and Joe Root out in the middle.
Ashwin keeping things tight from the other end.
Another terrific over from Ashwin. Both Axar and Ashwin have kept the England batsmen on their toes. Asking too many questions and both Ben Stokes and Joe Root are seemingly struggling at the moment. Playing the survival game! ENG 48/3
Root saved by DRS!
A debatable decision by the third umpire but England skipper Joe Root survives a LBW call. Axar this time he traps Root in front. Once again an arm ball from Axar and it darts in back sharply. Root took the review as he was unsure whether the ball hit the bat first. Even multiple replays can't confirm whether the ball hit the bat first or pad. The third umpire after a long look rules against the decision of the on-field umpire. Root survives but Axar is looking absolutely unplayable at the moment. ENF 46/3
Back-to-back boundaries for Stokes!
FOUR! This time a reverse sweep from Ben Stokes. Hits Ashwin's full length delivery behind point to pick up another boundary. ENG 32/3, lead by 9 runs
Incredible shot from Stokes!
FOUR! Short from Ashwin. Ben Stokes rocks on to the back foot and dissects the gap beautifully between the deep mid-wicket and the mid-on fielder.
England in front again!
Ben Stokes takes a comfortable single off Axar Patel and England now are in front of India. They lead by 1 run. England 34/3 after 12.5 overs
Stokes takes on Ashwin!
FOUR! That was in the arc for Ben Stokes and he connects well. Dispatches Ashwin's delivery in the deep mid-wicket region to pick up his first boundary. England deficit down to 3 now. ENG 30/3
Another superb over from Axar!
A wicket and three runs from the over and Axar Patel is almost looking unplayable at the moment. Ben Stokes has arrived to the middle now and it will be very difficult for him as well in this situation. But a lot depends on Stokes and Joe Root if England are to put up a fightback in this Test after a disastrous start. Ashwin to continue from the other end. ENG 22/3
Third wicket for Axar!
OUT! Magical spell this has been from Axar Patel! Gets his third wicket. Dom Sibley goes for the aggressive sweep but only manages an edge. Wicket-keeper Rishabh Pant does the rest behind the stumps. Sibley took the review but snicko confirms that there was bat involved. Sibley departs for 7. ENG 19/3 after 8.3 overs.
Ashwin pin-point accurate from the other end!
Another terrific over from Ashwin. Just a couple from it. Both Joe Root and Dom Sibley playing the surviving game at the moment. India spinners are on top. ENG 19/2 after 8 overs.
Virat Kohli is all pumped up!
W, 0, W! 👌👌 @akshar2026 narrowly misses out on a hat-trick but what a start this has been for the local boy! 👍👍… https://t.co/PDRXdWrEk5
— BCCI (@BCCI)
1614251480000
Turning square for Axar!
Turn and bounce in abundance for Axar in this second innings. Another good over from the left-arm spinner. A puff of dust erupts every time he throws in the ball and and is getting ample bounce as well, making it very difficult for the English batsmen. Joe Root and Dom Sibley only looking to survive at the moment. ENG 11/2
Review from India but Sibley survives!
Ashwin from around the wicket traps Dom Sibley in front but umpire Nitin Menon rules NOT OUT! Looked close and Virat Kohli goes for the review. But, ball tracking shows that the delivery was going over the stumps. Sibley survives and India lose a review! ENF 8/2 after 3.2 overs
Ashwin starts well from the other end!
A four-run first over from R Ashwin. India putting England under pressure early! Axar to continue for India. ENG 5/2
Ashwin partners up with Axar!
What a start from Axar Patel! Phew! Two wickets and a single in his first over. That was something special from the left-arm spinner. Ashwin to share the new ball with Axar from the other end. ENG 1/2
Axar on fire! Claims his second wicket!
OUT! Dream start for Axar Patel and India in this second innings. Missed out on a hat-trick previous ball but this time he castles Jonny Bairstow for a 2-ball duck. The ball goes right through the gate, taking the top of the leg stump. What a start this has been from the local boy! England have lost 2 with nothing on the board.