TIMES OF INDIA
THE TIMES OF INDIA | Feb 25, 2021, 15:56:26 IST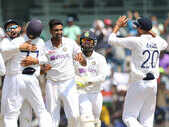 Stay updated with Times of India for Live Cricket Score, ball-by-ball commentary and scorecard of 3rd Test match between India and England.
Ishant goes big in his 100th Test!
SIX! Slams Jack Leach straight down the ground to pick up six crucial runs for India. Ishant has hit his first six in Test cricket and that has come in his 100th Test! Making his milestone Test appearance a memorable one! India 141/9, lead by 29 runs
Another one for Root! Ashwin falls!
OUT! This has been a magical spell from England skipper Joe Root. This time he gets rid of all-rounder Ashwin. Root claims his fourth wicket of the session. What an afternoon he is having in Ahmedabad. Ashwin goes for the big hit against him but mis-times. Zak Crawley at the deep fence makes no mistake. Ashwin departs for 17. India 9 down. India 134/9, lead by 22 runs
Welcome runs for India!
FOUR! Terrific shot from Ashwin. A pick-up sweep off Joe Root and the ball goes straight to the mid-wicket fence. Ashwin looking to get some quick runs now for India. IND 131/8
England spinners on top! India lead by only 14 runs
Another probing over from Jack Leach comes to an end. Just a single from it. Both Leach and Joe Root asking serious questions at the moment. Mind you, India only lead by 14 runs and they have just 2 wicket remaining. The hosts started the day 13 runs behind and have just collapsed in this afternoon session on Day 2. IND 126/8
Carnage in Ahmedabad! 26 runs & 5 wickets in the session so far!
Outstanding start with the ball 👊 Scorecard: https://t.co/s1ZJa15aVe #INDvENG https://t.co/wH3VcveIvj
— England Cricket (@englandcricket)
1614246776000
And now Axar departs! India crumbling!
OUT! Nothing shot from Axar Patel. Root picks up his third wicket. Root has taken three wickets giving away not even a single run. Poor shot from Axar as he hits the ball straight to Dom Sibley at short extra-cover. A two-ball duck for Axar. IND 125/8
Absolute beauty from Root! Sundar falls!
OUT! What a delivery from Joe Root. Takes the top of the off stump of Washington Sundar. That looked almost unplayable. Sundar reaches for it but misses completely. Hits the top of the stump and the whole England team has erupted in joy. Sundar falls for a 12-ball duck. IND 125/7
Ashwin cuts to collect a boundary!
FOUR! Ashwin beautifully uses the depth of the crease. Gets over the ball from Jack Leach and hits it behind point to pick up four runs. IND 125/6
Another solid over from Root!
Back-to-back maidens from England skipper Joe Root. England spinners on top at the moment. 11 overs have been bowled so far in this session. Just 22 runs scored by India batsmen and 3 wickets have fallen. Spin doing the trick for England at the moment. IND 121/6
Brave shot from Ashwin!
FOUR! The best form of defence is to attack and Ashwin is now looking to unsettle Jack Leach. After a very successful first over from Joe Root, Ashwin advances first-ball against Leach and hits him for a boundary down the ground. Ashwin looking to attack the English spinner. IND 121/6
Wicket for Joe Root first-ball!
OUT! Joe Root gets Rishabh Pant first-ball of his spell. Dream start for England on Day 2. A cracker of a delivery. Root bowls from around the wicket and the ball moves away from Pant after pitching. Pant reaches for it but only manages a fine edge. Ben Foakes does the rest behind the stumps. Pant falls for 1. India in trouble!
Leach bowling beautifully!
A wicket and two runs from the over of Jack Leach. He is really now getting the hang of where to bowl on this pitch. What a start this has been from the England spinner. And seeing the success skipper Joe Root has brought himself in to the attack!
Rohit follows Rahane to the pavilion!
OUT! Big wicket for England as Jack Leach sends Rohit Sharma packing. Rohit goes for the expansive sweep against Leach but misses the ball completely. The straighter one from Leach hits the back leg of Rohit. The on-field umpire rules him out straightaway. Looked plumb! Rohit takes the review but it goes in vain. Rohit departs for 66. IND 115/5
8th maiden from Anderson!
Rishabh Pant arrives at the middle!
Three men already at the fence and Rishabh Pant has not even faced a single ball. Defensive mindset from England? Will Pant go after Jack Leach straightaway? IND 114/4
Leach traps Rahane in front!
OUT! Jack Leach provides early breakthrough for England on Day 2. Traps Rahane right in front of the stumps. Arm ball from Leach and it darts straight in. Caught on the back-foot, the ball hits the back leg of Rahane. And even Rahane is convinced his is trapped in front. Not bothering to take the review. Walks away! Rahane falls for 7. IND 114/4
India go past England's first innings total!
A single off the last ball from Jack Leach's over and Ajinkya Rahane takes India total past England's. The hosts are now in front of the visitors in this third Test. IND 113/3
Swept and four!
FOUR! Rahane gets the boundary he was desperately looking for. Was itching to get one across the fence. This time he paddle-sweeps a Jack Leach delivery in the fine-leg region to pick up his first boundary of the day. IND 112/3
Cracker of a shot from Rohit!
FOUR! Rohit beautifully transfers the weight on to the backfoot and punches Anderson's delivery through extra-cover region for his second boundary of the over. IND 108/3
Rohit finds the gap!
FOUR! Short and wide outside off from James Anderson and Rohit just pushes it through cover region to pick up his first boundary of the day. IND 104/3