NEW DELHI: A day after
Mamata Banerjee
's e-scooter ride, it was the turn of Union minister
Smriti Irani
to ride a scooty to lead a
BJP rally
in poll-bound West Bengal.
Wearing a black helmet and a mask, Smriti Irani led the party rally on two-wheeler for some kilometers in the South 24 Parganas district. The programme was part of the BJP's state-wide 'Poriborton Yatra'.
Scores of BJP workers followed the Union minister on two-wheelers, chanting "Jai Shri Ram" and "Khela Hobey".
Irani stopped at several spots on the way as fervent supporters gathered, choking the road. She interacted with the party's young supporters in fluent Bengali, besides reaching out to the people.
"I want to thank everybody. We are out today to take your blessings. You have already given an opportunity to Prime Minister Narendra Modi and during the elections in West Bengal, bless the BJP and the 'Lotus'," she said as a cordless mic was handed to her to speak.
"When we began the 'rath yatra' today, the administration deliberately tried to delay it. We will ride two-wheelers, walk on foot because West Bengal is on the march towards change," Irani said.
On Thursday, West Bengal chief minister Mamata Banerjee commuted to and from state secretariat Nabanna on an electric scooter to protest against high fuel prices.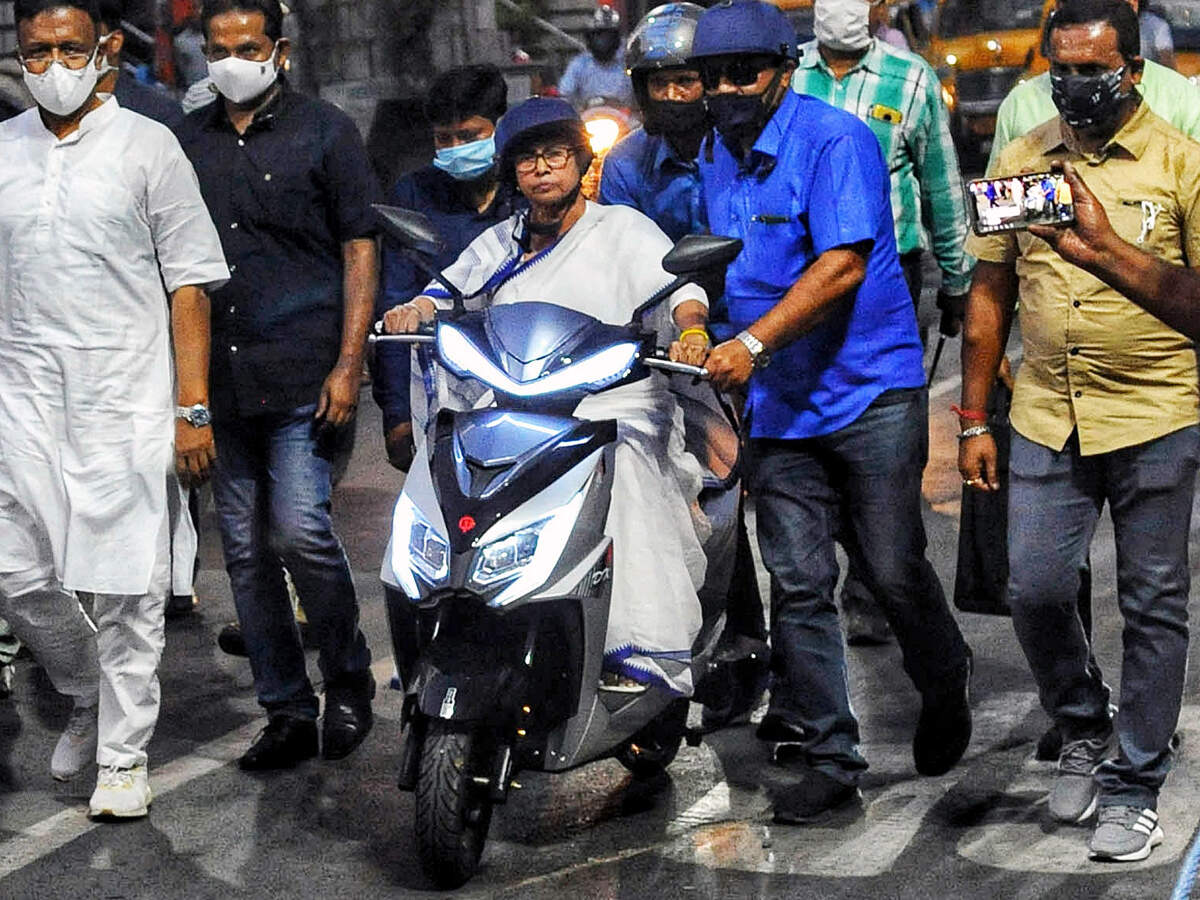 While on way to Nabanna in the morning, Banerjee was seen riding pillion on the battery-powered electric scooter driven by minister Firhad Hakim.
TMC supremo herself took the driver's seat on way back to her residence in Kalighat area from secretariat in the afternoon.
With a placard protesting against the petrol price hike hanging around her neck, helmet-clad Banerjee waved at people on both sides of the road during the seven-km-long journey from Hazra More to the state secretariat in the first half.
(With inputs from agencies)