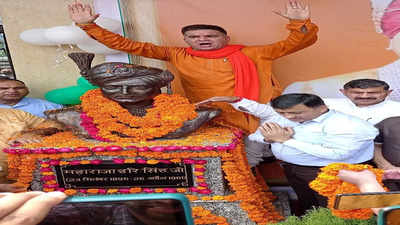 BJP installs statue of Maharaja Hari Singh at party headquarters in Jammu on Thursday.
JAMMU: Remembering the last Dogra ruler of J&K, Maharaja Hari Singh on his birthday, the Bharatiya Janata Party on Thursday installed a bust of the late ruler at the party headquarters in Trikuta Nagar of Jammu.
J&K BJP president Ravinder Raina along with MP (Lok Sabha) Jugal Kishore Sharma, Major General Govardhan Singh and other senior leaders unveiled the statue amid much fanfare and presence of a large number of prominent civil society members and party members. The bust has been prepared by eminent sculptor Ravinder Jamwal who is known for giving life to statues of Dogra monarchs and war heroes.
Raina while unveiling the bust appreciated artist Jamwal and recalled how the BJP had installed the statues of the maharaja at prominent places in Jammu. He described Maharaja Hari Singh as a true nationalist for his role in the independence of India. Raina termed him as a great freedom fighter, saying that his role in the Round Table Conference was unmatched. "We will very soon hoist Tiranga in all parts of J&K like Gilgit, Baltistan, Aksai Chin, etc, which were made part of Bharat through final Instrument of Accession by Maharaja Hari Singh," he stressed.

FacebookTwitterLinkedinEMail