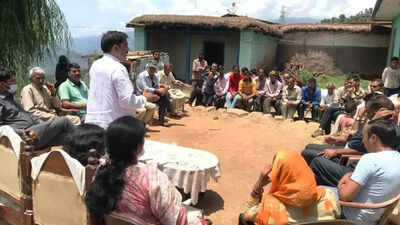 UDHAMPUR: The restoration of democratic government in Jammu and Kashmir seems to be the last priority of the Centre as well as the Election Commission of India (ECI), said Harsh Dev Singh Chairman-JKNPP and former minister on Wednesday.
While addressing public meetings in villages Thaplal and Sarsu in Ramnagar and Ghordi Blocks respectively Singh said, "The concept of democracy in BJP rule has been reduced to local bodies polls with no sincere effort having been made to install an elected govt in J&K."
"All discussions on restoration of democracy are ultimately directed towards the so-called successful conduct of Panchayat and Municipal polls."
Singh remarked, "The BJP govt had made the J&K elections conditional upon the completion of delimitation exercise which appears to have gone in limbo."
"The Delimitation Commission which was formed in March, 2020 with a tenure of one year had merely conducted one meeting with Associate members during its original term thereby necessitating its extension for an additional one year."
"And though the said Commission comprising even the Chief Election Commissioner of India visited J&K in June last to take the feedback from various stakeholders assuring early completion of the process, not a word was heard in this regard from the said body during the past around three months," he added.
JKNPP leader further said, "With the ECI now concentrating on holding Elections in various other states of the country much before the expiry of the term of the respective govts therein, the erstwhile state of J&K deprived of democratic govt for the last more than three years, the Assembly having been suspected and eventually dissolved in 2018, did not appear to be finding the desired attention of either the poll bodies or the centre".
Singh said that while delimitation of DDC constituencies in J&K was effected within one week by the present dispensation, the helmsmen had failed to come out with any convincing explanation for the inordinate delay in delimiting Assembly constituencies.
He said that with delimitation delayed and denied, political process having been rendered defunct in J&K and political parties discredited and discouraged, the centre seemed hell-bent to deprive J&K of a democratically elected govt.
"The last elections in J&K having been held in 2014, the BJP govt still seemed disinclined to hand over power to the people even after a lapse of several years thus giving a fatal blow to the democratic values enshrined in the Indian constitution."
"With uncertainty looming large over the delimitation of constituencies, the UT of J&K was doomed to be governed by proxies from outside the state having hardly any accountability to the masses whom they ruled," he added.

FacebookTwitterLinkedinEMail