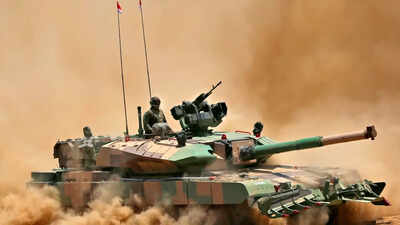 NEW DELHI: The defence ministry on Thursday finally placed the Rs 7,523 crore order for 118 Arjun Mark-1A main-battle tanks, which have 72 "upgrades" for better firepower, mobility, protection and endurance, to be produced by the Heavy Vehicles Factory (HVF) at Avadi in Tamil Nadu.
The HVF has promised to produce the first five Arjun Mark-1A tanks within 30 months of the indent, which has now been placed. Once these are approved by the Army, HVF will deliver 30 tanks per year. These `improved' 118 Arjuns will add to the first 124 such tanks inducted by the Army well over a decade ago.
In February this year, PM Narendra Modi had ceremonially handed over the first Arjun Mark-1A tank to Army chief General M M Naravane, while the Rajnath Singh-led defence acquisitions council had cleared the procurement of 118 of them, as was then reported by TOI.
"The state-of-the-art Mark-1A is a new variant of Arjun developed by DRDO. Infused with 72 new features and more indigenous content from the Mark-1 variant, the tank would ensure effortless mobility in all terrains, besides precise target engagement during day and night," said a MoD statement on Thursday.
"The Mark-1A tank is equipped with accurate and superior firepower, all-terrain mobility and an invincible multi-layered protection provided by an array of advanced technology systems. It can take on the enemy during day and night conditions and in both static and dynamic modes," it added.
The Army for long has resisted induction of the "extra heavy" Arjun tanks, and has instead banked upon the Russian-origin T-90S `Bhishma' tanks. The force has so far inducted over 1,200 of the 1,657 T-90S tanks being licensed produced by the HVF.
The Army also has 2,400 older T-72 tanks and is now looking for "futuristic" tanks. The DRDO, on its part, has worked hard to resolve "all maintenance, spares and other issues" as well as carrying out 14 major and 58 minor "refinements" in the Arjun Mark-1A tanks, as reported by TOI earlier.
The MoD on Thursday said the Arjun Mark-1A is at par with any contemporary main-battle in its class across the globe. "This tank is particularly configured and designed for Indian conditions and hence it is suitable for deployment to protect the frontiers in an effective manner," it said
"This production order to HVF opens up a large avenue in defence manufacturing for over 200 Indian vendors including MSMEs, with employment opportunities to around 8,000 people. This will be a flagship project showcasing the indigenous capability in cutting edge defence technologies," it added.

FacebookTwitterLinkedinEMail