West Bengal chief minister and Trinamool Congress party leader Mamata Banerjee displays the victory symbol as ...Read More
KOLKATA: Bengal CM and
Trinamool Congress
chief
Mamata Banerjee
on Friday took up
BJP
's challenge, deciding to contest from only
Nandigram
in the assembly polls. Mamata was one of the 291 candidates whose names were announced by the Trinamool on Friday; the party left three seats — Darjeeling, Kalimpong and Kurseong — to its Hills allies.
Mamata's decision to contest from only Nandigram follows several BJP leaders challenging her over the past few weeks to give up her home constituency, Bhowanipore, in south Kolkata, and fight from this East Midnapore semi-urban constituency. Nandigram — along with Singur in Hooghly — saw mass agitations that helped Mamata defeat the Left Front in 2011 and come to power. Both places hold immense symbolism in contemporary Bengal politics.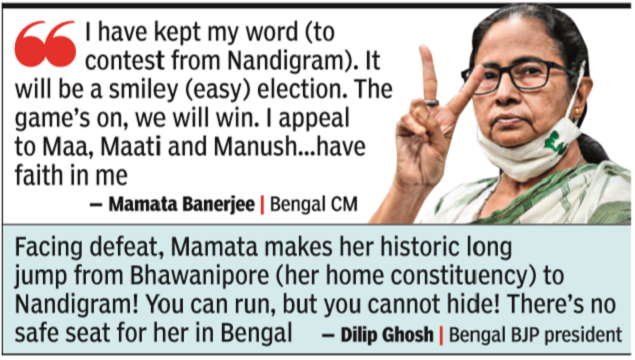 "I am going to contest from Nandigram only. I keep my promises," Mamata said while releasing the list. "It will be a smiley election," she added, refusing to call the fight "tough". "Khela hobe, dekha hobe, jeta hobe (The match is on, we will meet, we will win)," Mamata said, adding: "Bengal will be governed by people who stay here and not by goons from outside."
Veteran minister Sobhandeb Chattopadhyay will now be the Trinamool candidate in Bhowanipore. He shifts from another south Kolkata constituency, Rashbehari, where the party has fielded long-time councillor Debashis Kumar.
There was confusion over the Tollygunge seat after she renominated minister Aroop Biswas but then added: "I too can contest from this seat." But Trinamool leaders beside her laughed when she said this and later added that they would not read too much into the aside.
The Trinamool list features a major overhaul from the 2016 list, having as many as 114 new names, quite a few of them from the Tollywood film industry and former sportspersons. Twenty-eight MLAs, including five ministers, have been dropped; this list includes assembly deputy speaker Sonali Guha, minister Bachchu Hansda, former ministers Rabindranath Bhattacharya and Rabiranjan Chatterjee and senior MLAs Jotu Lahiri, Samir Chakrabarty, Smita Bakshi, Mala Saha, Amal Acharya and Braja Majumdar.
Some of the ministers may be accommodated in the proposed legislative council (like finance minister Amit Mitra and technical education minister Purnendu Bose). But a vast majority of MLAs have been dropped after considering factors like "loyalty and winnability", Trinamool seniors said.
The number of Muslim candidates this time (35) is much less than the 57 who got a ticket to fight in 2016. The party also fielded 79 Scheduled Caste candidates — 11 of whom will contest in general category seats — and 17 from the Scheduled Tribes.
Fifty women — five more than 2016 — have made it to the list, many of them new faces. Many of them are from showbiz: Sayantika Banerjee, Koushani Mukherjee,
Saayoni Ghosh
, June Maliah, kirtan exponent Aditi Munshi and Birbaha Soren. But quite a few men from Tollywood, too, are on the list (director
Raj Chakraborty
and actors Kanchan Mullick and Soham Chakraborty). And former India cricketer Manoj Tiwary and former
Mohun Bagan
player Bidesh Bose add the Maidan quotient.
Mamata, who said "21" was always her "lucky number", said her government would continue the "free ration scheme" plus the other ongoing projects like Swasthya Sathi, Duare Sarkar and free tablets for higher secondary students if voted to office. Elaborating on the support she is getting from opposition leaders, Mamata said: "I received a call from Hemant Soren (Jharkhand CM). He has pledged his support to us. I want to thank Sharad Pawarji, Uddhav Thackerayji, Tejashwi and Akhilesh for supporting us. Tejaswi has not only met me but has promised to come (for campaigning). Arvind Kejriwal (Delhi CM) too is a friend. Their support gives us strength."
Several Kolkata seats, besides Bhowanipore and Rashbehari, will see new Trinamool faces. Mamata fielded Ratna Chatterjee, Trinamool mayor-turned-rebel-turned BJP leader Sovan Chattarjee's estranged wife, from Behala East, a seat that Sovan has won twice for the Trinamool. "She (Ratna) will fight for women," the CM said.
Three senior Kolkata Municipal Corporation board-of-administrator members — Atin Ghosh, Debashis Kumar and Debabrata Majumdar — got tickets from Cossipore-Belgachhia, Rashbehari and Jadavpur, respectively. Vivek Gupta, a newspaper owner-editor, will contest from Jorasanko.
But the muscle to the fight will be provided by many of Mamata's tried-and-tested lieutenants, who include state ministers Partha Chatterjee, Firhad Hakim, Subrata Mukherjee, Aroop Biswas, Sobhandeb Chattopadhyay, Bratya Basu and Chandrima Bhattacharya.