Please try another search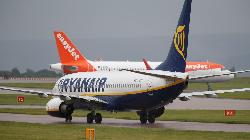 Credit: © Reuters.
By Dhirendra Tripathi
Investing.com – ADRs of European airlines traded higher Friday as the U.K. considerably relaxed rules for travelling to the country.
ADRs of EasyJet (OTC:) and British Airways-owner IAG (LON:) traded around 4.5% higher each on OTC Markets. Deutsche Lufthansa (DE:) ADRs (OTC:) were up 2%. Ryanair ADRs (NASDAQ:) rose 0.5% on .
Beginning Oct. 4, passengers who have been fully vaccinated in Europe, U.S., Australia and several more countries will be able to enter the region without a need for any quarantine or tests.
Fully vaccinated travelers will instead be able to pay for a cheaper, but less sensitive, lateral flow test which can be taken quickly at home, according to a BBC report.
The amber and green lists of countries are being merged. This will also enable double-jabbed Britons' quarantine-free travel to other countries. The red category, for countries the government advises against visiting, remains though that has been pruned.
Those travelling from red-list countries will have to book a day-two Covid test, to be taken after arrival in England. A passenger travelling from any country not mentioned in the lists will be treated as unvaccinated, even if fully-vaccinated.
The new system aims to reduce testing and costs for people, allowing more people to travel, BBC quoted Transport Secretary Grant Shapps as saying.
A person showing positive after a lateral flow test will be asked to take a second follow-up PCR lab test, which will be paid for by the NHS.
The restrictions have been simplified to aid the tourist industry, ahead of the autumn half-term break at the end of October.