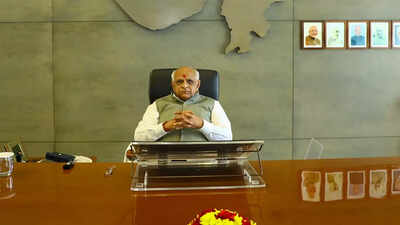 GANDHINAGAR: The swearing-in of new Gujarat CM Bhupendra Patel's council of ministers was put off by a day amid high drama in the state capital on Wednesday over the BJP high command's purported diktat to replace all 23 members of the erstwhile Vijay Rupani cabinet with younger faces.
As the state BJP think tank walked the political razor's edge in trying to compile a list adhering to the "no-repeat" formula, discontent mounted among ministers over being asked to make way in what looks to be an unprecedented churn. Several ministers were said to be particularly upset about being informed over the phone that they wouldn't be retained. Senior party functionaries said the outgoing ministers would surely be placated before a fresh cabinet takes guard on Thursday.
While most ministers vacated their offices in a hurry on Tuesday, a poster mentioning that the swearing-in ceremony was scheduled for Wednesday was hurriedly pulled down at Raj Bhavan. The governor's office later announced that the swearing-in would be held at 1.30pm on Thursday. The CMO confirmed the rescheduled event through a tweet.
Senior ministers had been working their phones ever since the surprise selection of first-time MLA Patel as the state's 17th CM. After the swearing-in of a new council of ministers was first postponed by a couple of hours before being rescheduled for Thursday, the residences of state BJP president C R Paatil and former CM Rupani witnessed a hubbub through the day as ministers and contenders for berths flitted in and out.
Rupani's erstwhile cabinet colleagues, including four Congress turncoats, are learnt to have voiced dissent at being dropped unceremoniously. Kunvarji Bavaliya, Jawahar Chavda, Dharmendrasinh Jadeja and Jayesh Radadiya had quit Congress recently and joined BJP after being offered ministerial berths.
Akhil Bharatiya Koli Samaj dashed off a letter to PM Narendra Modi, saying that dropping Bavaliya, its national chairman, would send a wrong message to the community and turn them against BJP in various constituencies in Gujarat and elsewhere in the country.
The no-repeat experiment has upset caste equations, more so in cases where no immediate replacements are available for ministers from specific communities.

FacebookTwitterLinkedinEMail