MUMBAI: Like most youngsters in Team India these days, Shardul Thakur has taken to international cricket like duck to water. Twice in the space of nine months now, the 'Palghar Express,' now fondly known as 'Lord Thakur' has been at the heart of India's greatest Test triumphs.
If his 67 and 123-run partnership for the seventh wicket with Washington Sundar in the first innings pulled off a heist at the Gabba Brisbane, his 57 off 36 balls in the first innings at Oval, followed by another fifty in the second innings, changed the complexion of the Oval Test against England.
In an exclusive interview with TOI, Thakur, having just joined MS Dhoni's Chennai Super Kings in Dubai, talks us through his exploits on the England tour, the Indian team's tension with the 'abusive' James Anderson, his relationship with 'captain Kohli,' and how a change in grip two years ago seems to have boosted his batting.
The 29-year-old also bares his heart about being disappointed at not being picked in India's 15-member main squad for the T20 World Cup in UAE (he's in the reserves) despite impressing as an all-rounder and makes no bones that he feels he should have won the 'Man of the Match' award for his heroics in the Oval Test.
Excerpts from an exclusive interview…
Virat Kohli announced on Thursday that he will quit as India's T20 captain after the T20 World Cup. Your first reaction...
It's quite surprising. I wish he had continued (as captain after the T20 World Cup too), but he has done the job for India since the past few years. So according to him, maybe it's time to move on as the India T20 captain. I haven't had the opportunity to speak to him. I would like to congratulate him on his time as the India T20 captain, but only after we win this World Cup. Till then, he is still our captain.
Can you describe your relationship with Kohli till now? How much do you enjoy playing under his captaincy? How supportive has he been?
My relationship with him is very good. We often joke about a lot of things. At times, I try to pull his leg too, but only if he is in a mood. After all, there are many things that he needs to handle. I like to play under his captaincy. We go through different moods on the field. He has been very supportive and always motivates us to perform to our maximum potential.
Similarly, what's been the backing from coach Ravi Shastri and other members of India's coaching staff?
They always tell me to try to add something to my game, be it in bowling, batting or fielding. In fact, all our four coaches have been very supportive that way. Shastri would always come and tell me what I am capable of and occasionally he has also said a few things about my game and my ability that have come true.
Bharat Arun (bowling coach) majorly discusses the team's bowling plans. Similarly, R Shridhar (fielding coach) talks about the finer points of fielding and gives his honest inputs after the game. Vikram Rathour (batting coach) helps with batting plans in the nets. He discusses a lot of scenarios and makes me understand how to bat down the order.
You've now scored three half-centuries in your last five Test innings. What's the secret behind this success? To add to it, there are 14 wickets too. Did you anticipate such a dream start to your Test career?
I'm happy with the kind of start that I have got in Test cricket, that too in both the departments — batting and bowling. But at the same time, I'm not surprised with this kind of a start because I have spent enough time with the Indian team and that way I am comfortable with all the boys. There's no dressing room nervousness (in me) anymore.
Do you think that the grind of domestic cricket that you went through while playing for Mumbai is helping you succeed in Test cricket?
Yes, it's true that the grind of domestic cricket that I went through while playing for Mumbai is helping me in some way. Before I played a 'full' Test, I already had 60 first-class games under my belt (I'm saying that because I got injured in my debut Test, against the West Indies at Hyderabad in 2018) and in terms of experience, it's a good number.
Your straight drives were a delight to watch during both your half-centuries in the Oval Test. How did you perfect them to this extent?
Thank you for the compliment about the straight drives. I think it comes out good when you have done quality practice. Also, the balls bowled by them, I felt, were to be driven.
Your childhood coach Dinesh Lad told me that he made you change your grip slightly in December last year. Have you made any technical changes to your game recently? How much has your childhood coach helped you develop your game?
Yes, he changed my top hand grip. It was in 2019 ,when I was trying to get back on the field after my ankle surgery. I haven't made any changes after that, apart from one or two minute details in my approach towards batting that Rohit (Sharma) spoke to me about. Lad sir introduced me to Mumbai cricket by forcing me to take admission in Swami Vivekanand International School after talking to my parents and convincing them that I have enough talent to succeed at the higher level and I will at least play (for Mumbai) in Ranji Trophy.
You smashed six sixes in an over off a left-arm spinner in an inter-school game in 2006. Can you recall that feat for us?
I have kept it in one corner of my heart as a golden memory. That's how I rose to fame in Mumbai cricket.
Have you spoken about your batting to someone in the dressing room? As in, has anyone amongst the coach/captain or teammates/former cricketers given you any advice/tips? How was the reaction from your teammates after your heroic fifties in the Oval Test? Even the English commentators seemed impressed…
Everyone talks about it, including coaches, support staff and senior players. They keep telling me and talking to me about finer points and game situations. Everyone was happy and applauding me after my fifties in both innings of the Oval Test. I am not worried about the commentators. For me, appreciation from my team and family matters.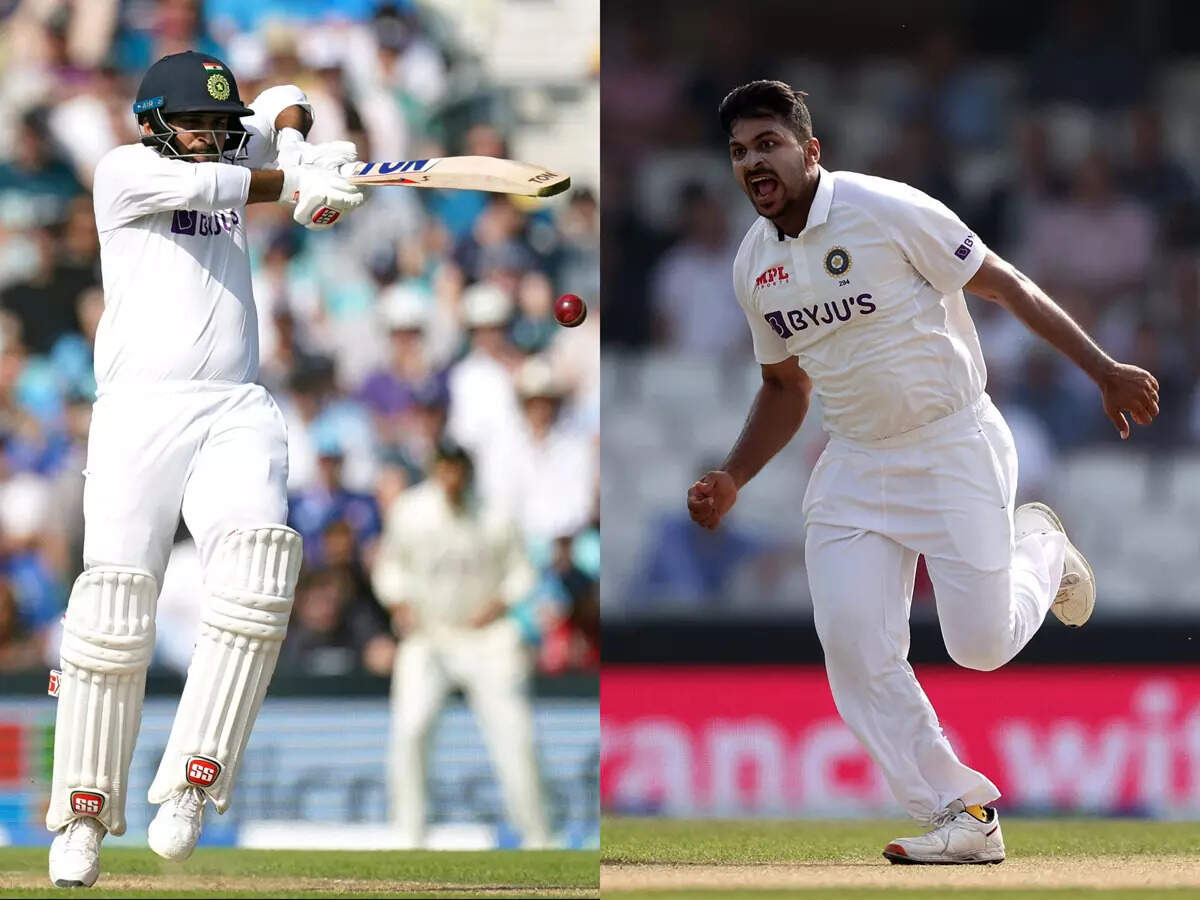 (ANI Photos)
What made you attack (57 off 36 balls) so well, even as India were losing wickets rapidly in the first innings at Oval?
If you see, I wasn't trying to hit till Rishabh (Pant) was batting because the math was simple — to bat with him as much as I can. Once he got out, the situation was tricky, so I decided to counter-attack and succeeded.
Many felt that you deserved the 'Man of the Match' award after a stupendous all-round performance in the Oval Test. Did you feel bad that your case was overlooked by the commentators for the award? I believe Rohit Sharma, who was named MoM, actually placed the medal around your neck in the dressing room?
Well, I appreciate that people are talking about it and feel I should have been adjudged as the 'Man of the Match.' I have never been lucky with these awards, but I am really happy for Rohit that he won the award this time. His century was equally important for us. It was his first overseas hundred, and that too in England, where the ball does a bit more than any other country. Yes, even he appreciated my performance and said that I could have been the real candidate (for the MoM award).
In the second innings of the Oval Test, you started England's slide by breaking their 100-run opening partnership by taking out Rory Burns with that beautiful out-swinger. You seem to have perfected that ball. And then you forced Joe Root to play on, like you got Ollie Pope to chop the ball on in the first innings. Can you describe that Oval bowling performance, which can be said to be one of your best so far?
"My job was simple— I had to support the other three pacers. But at some stage (of my career) in other forms of cricket and in domestic games, I too had played as the main seamer of my team. So my natural instinct is to take wickets. Even when England were cruising in the second innings with no wickets on board, my intention was to take wickets and not even once did I think of bowling defensively. Rory's wicket was a reward of a good ball which pitched on the right spot and moved away. I was really pleased with the wickets of Pope and Root. I was just trying to bowl that teasing line and length outside the off-stump.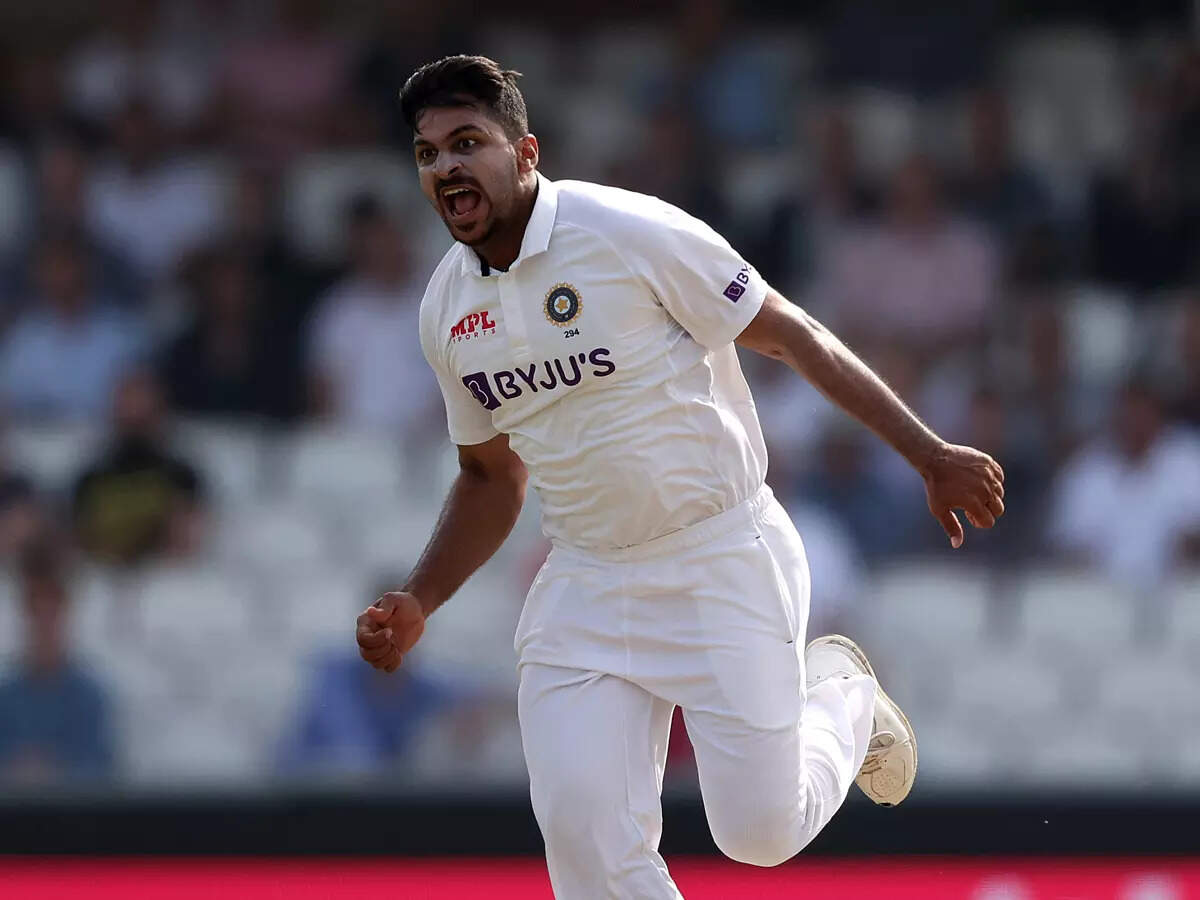 (ANI Photo)
Can you be labelled as a specialist all-rounder now?
I don't worry much about the labels. My job is to score runs when I am batting and take wickets when I am bowling.
Are you a trifle disappointed that you aren't there in India's T20 World Cup squad, but you are a part of the reserves, despite a good show in the Oval Test? Do you think that you are an equally good white-ball player too?
Yes, I am a little disappointed. It's everyone's dream to play and win the World Cup for your country. If you talk about the Oval Test, then yes, it (my performance) was (in) red-ball format. But if you see, I have done well in both the departments in white-ball cricket too over a period of last two years. Now I'm a part of the reserves for the World Cup, so I guess I have to be ready. I can get a call-up at any moment.
Can you describe the tension with the England team during this series, particularly with James Anderson?
There were no tensions with the England team. It (the issue) was only with James Anderson. He abused Mohammed Siraj in the first Test, and likewise he did the same to (Jasprit) Bumrah in the Lord's Test, when he (Bumrah) bowled the 'body line' to him. Have you seen how fast bowlers bowl to our tail-enders when we go overseas? Mohammed Shami's arm got fractured in Adelaide. T Natarajan was bombarded with fast 'body line' balls at 90-plus miles an hour. We are not here to make friendships and spare anyone. We are here to win.
India's pace bowling attack, as a whole, has never seemed to be so good. How is the camaraderie between all of you? Can you describe it a bit, since there is also a lot of competition for places between you guys. Jasprit Bumrah seems to arguably be the No. 1 bowler in world cricket. Both his yorkers on the final day of the Oval Test were unplayable…
Where's this question coming from? We are not competing with each other. Everyone is a different type of a bowler. We have mutual respect for each other and when the time comes, we help each other. Bumrah is a unique bowler. There's no doubt about it.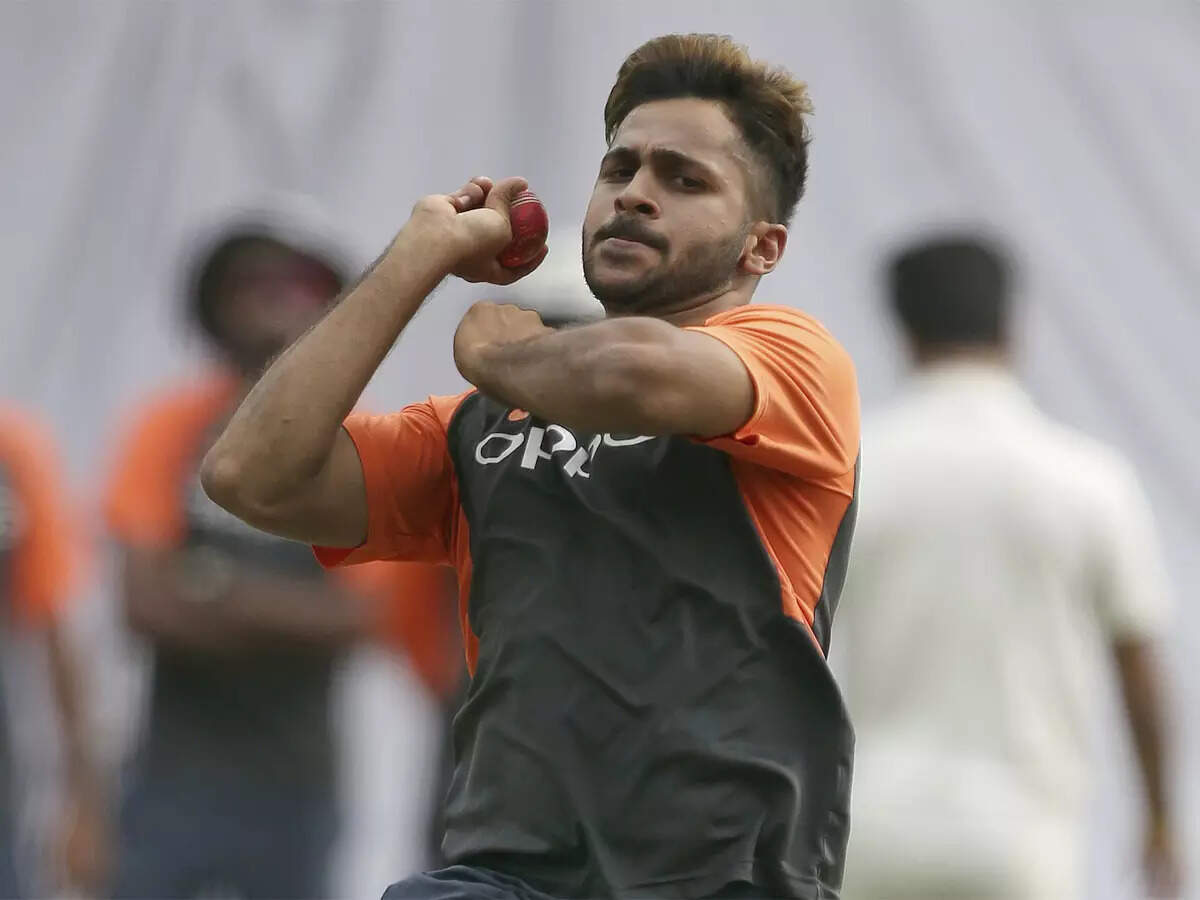 (AP Photo)
Did your captain at the Chennai Super Kings MS Dhoni compliment you after your heroic Test knocks for India? Will he as a mentor help India in the T20 World Cup? How much has he influenced your game?
We haven't spoken yet. I have just joined the CSK, so we'll speak now. I'm very happy to see this development and it will only help our team. I have played for the last four-five years under him (at CSK), so there's a definite role that he played in developing my game. His guidance matters.
How much is life changing after every time you're performing well for India in a Test match?
Life is the same, but with every performance, I get a new hope of doing even better than what I have done. After every game, I analyze my performance. Not in terms of numbers, but whether I gave my best on that particular day.
How do you unwind after a game? How tough is life in a bio-bubble?
Life in a bio-bubble is tough. It's not easy to get in and get out. Every time that you enter a bio-bubble, there's a quarantine period of one week. Swab testing happens on a regular basis. Outside activity is restricted too. I have been away from my family for a year now. But at the same time, I am very happy that we are lucky to play cricket, the game that we are so passionate about, in the middle of a pandemic. It needs to be noted that BCCI is taking our utmost care and likewise, the franchisees in the IPL.