Former India skipper Dilip Vengsarkar has joined voices of those who have criticized the wicket for the third ...Read More
MUMBAI: Former India skipper
Dilip Vengsarkar
has joined voices of those who have criticized the wicket for the third Test at the Narendra Modi Stadium in Ahmedabad, terming it as "poor advertisement for Test
cricket
."
Thriving on left-arm spinner
Axar Patel
and experienced offie
Ravichandran Ashwin
's skills, India thrashed
England
by ten wickets in a match that lasted less than two days and for just 842 deliveries — the shortest Test since an England-West Indies contest in 1934-35.
"There's no doubt that it was a substandard wicket. These kinds of wickets are bad advertisement for Test match cricket. People pay and come to watch good quality cricket," Vengsarkar, who played 116 Tests in the '70s, '80s and early '90s, told TOI on Friday.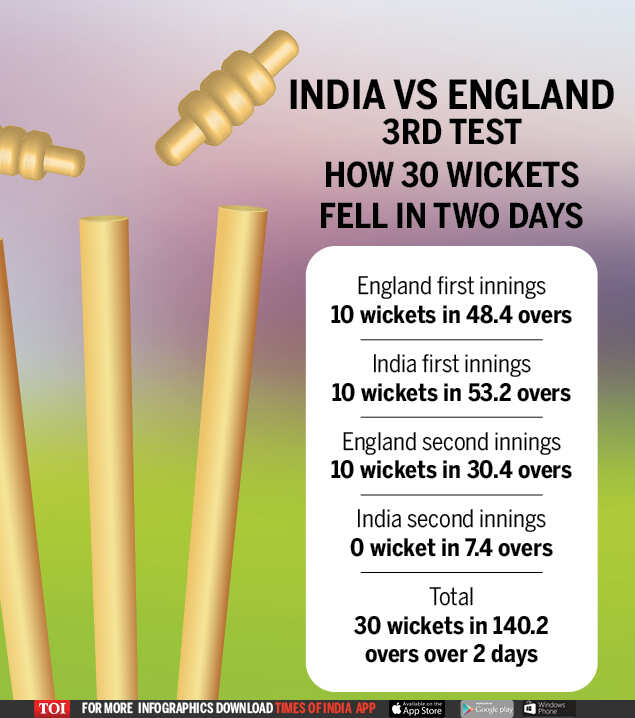 "Both teams had excellent players to watch. When you watch great batsmen like Joe Root become great bowlers (the England captain took 5/8 with his part-time off-spin), there is something seriously wrong in the wicket."
However, the former national chief selector also questioned the defensive technique of the English batsmen, who folded up for 112 and 81 on the turning track.
"England didn't have the skills and the will to fight. Most of them got out to the ball going straight, which wasn't turning. Their defensive technique was below par, really poor. They had no clue how to play on such wickets. They were all at sea, and had no clue whether to go on the back foot or front foot. It seemed some of the top-order England batsmen got themselves out mentally even before they took the guard," Vensgsarkar lamented.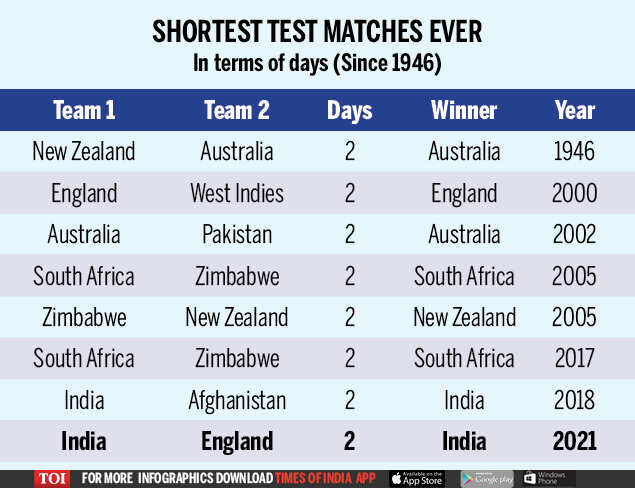 The controversial wicket also came under heavy fire from former Wankhede curator Sudhir Naik, who prepared wickets for the Mumbai Cricket Association (MCA) between 2006 to 2017.
"In 2004, after a Test match finished inside two days at the Wankhede, the International Cricket Council (ICC) had written a letter to Jagmohan Dalmiya (then the BCCI president), saying that give us a reason why the Mumbai Cricket Association's (MCA) Test-hosting status should not be withdrawn," said Naik.

"Ultimately, the then MCA president Sharad Pawar, who became the BCCI and the ICC chief later, approached me via Vengsarkar to ensure that Mumbai dished out a sporting track against England in the third Test in 2006. I want to see if the ICC takes a similar stand now when the Gujarat Cricket Association (GCA) is involved," stressed Naik.
"The track in the Mumbai Test of the 2012 series against England (India lost that game as England spinners Monty Panesar and Graeme Swann outbowled India's spinners) too was a turning one, but it wasn't this bad. When puff of dust comes off the wicket on day one, you know it's a bad wicket," he said.
finished in 2 days Not sure if that's good for test cricket !If @anilkumble1074 and @harbhajan_singh bowled on thes… https://t.co/xbsm3bbDxO
— Yuvraj Singh (@YUVSTRONG12)
1614263620000
The former India opener batted for "neutral curators" in the ICC's World Test Championship (WTC) final, just like what happens in the Ranji Trophy.
"The ICC has guidelines for preparing wickets for international games, but they are regularly overlooked. Like the match officials (in normal circumstances), the curators too should be neutral to prevent excessive home advantage. So, for a match in south Asia, we can have a curator from the SENA countries, and vice versa," he recommended.