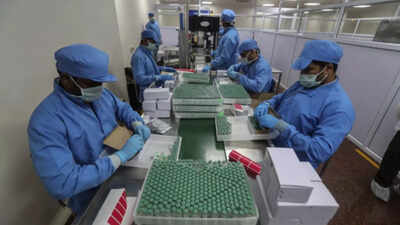 NEW DELHI: Under fire for keeping Covishield-vaccinated travellers from India on a par with the unvaccinated as per the country's quarantine norms, the UK showed some conciliatory signs on Thursday with the British High Commissioner to India Alex Ellis tweeting that neither side raised technical concerns on the certification processes.
"Neither side (India and UK) raised technical concerns with each other's certification process. An important step forward in our joint aim to facilitate travel and fully protect public health of the UK and India," Eliis said, in what seemed an attempt to assuage outrage over reports that UK had issues with India's digital vaccine certification.
The High Commissioner's tweet came after "excellent technical discussions" with R S Sharma, chairman of the empowered group for Covid-19 vaccine administration and the head of the CoWIN platform. Sharma tweeted: "Echoing his views, this will be instrumental in resuming socio-economic activities between India and UK."
Sharma, however, told TOI, "We have no information to the effect that the UK has some concerns about the certification process of our vaccination programme. Nothing of the sort has been conveyed to me by the British High Commissioner, the UK government or our ministry of external affairs."
The reports that the UK did not have a problem with the WHO-approved Covishield, but with India's Covid vaccination certification process, intensified the row over the shot being initially out of the list of approved jabs. The India government said it will initiate reciprocal action and commentators pointed out that the CoWIN process was highly reliable with a digital signature and QR code.
It was also pointed out that the UK's vaccination had faced a security scare over reports that users could "edit" their certificates and that gaps in the application process for EU approval had hit travel to the UK.
The health ministry on Thursday called the UK's new travel policy "discriminatory" as it does not recognise those vaccinated in India even as Covishield is now on the list of approved jabs. Health secertary Rajesh Bhushan said while the two countries are in dialogue and may reach a resolution soon, India reserves the right to reciprocate in similar manner if the UK fails to recognise vaccinated Indians.
"We're clear Covishield is not a problem... We have been having detailed technical discussions regarding certification, with the builders of the CoWIN app and the NHS app, about both apps," Ellis had said in a statement on Wednesday.

FacebookTwitterLinkedinEMail