R Ashwin celebrates on completing 400 Test wickets in Ahmedabad. (BCCI/PTI Photo)
AHMEDABAD: Only
Muttiah Muralitharan
has taken lesser time to claim 400 scalps in Test cricket.
Nine years and 110 days after he made his debut against the West Indies back in 2011,
Ravichandran Ashwin
- 34 going on 35 - reached the landmark with
Jofra Archer
's wicket in the 24th over on Day Two of the fourth Test match in Ahmedabad on Thursday.
In doing so, he is currently the 16th highest wicket-taker in the game and has a long way to go before he's done.
The last 12 months have been phenomenal for the Tamil Nadu spinner as he went about picking 39 wickets in just seven Test matches, 13 of those coming on the tour of New Zealand last year and 26 between the tour of Australia and the series against England taking place now.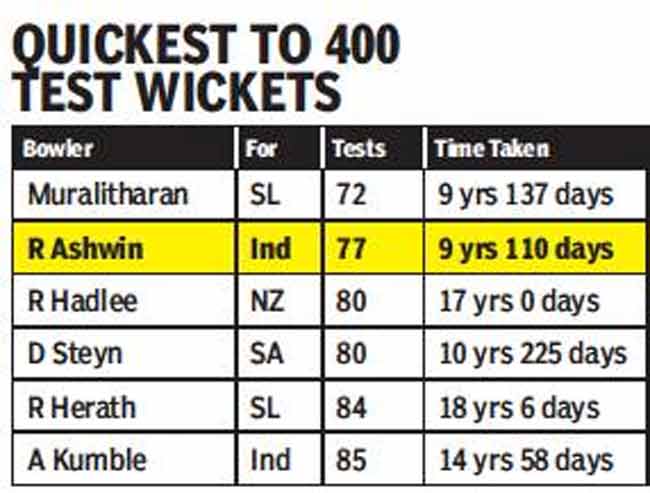 "It feels amazing actually (to reach 400 Test wickets). The entire stadium stood up and clapped for me. Pleased it happened in the winning cause. I can't really get a grip of what has happened in the last 2-3 months. It has been a dreamy run and a fairy tale," he said while speaking to the broadcasters.
Such has been the pace at which he's gone about getting to the coveted milestone, that when India's Test series in Australia started in December last year,
Nathan Lyon
was on 390 wickets and
Ashwin
on 365 - both in the race to 400. Lyon is currently at 399 while Ashwin has already zoomed past the mark.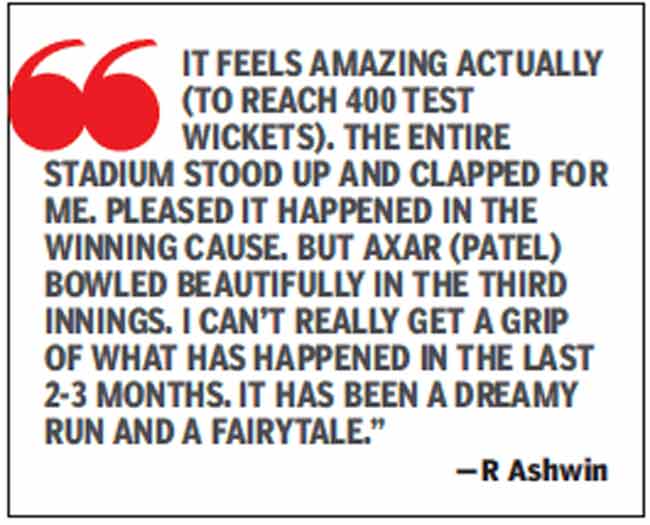 For a bowler perennially under the spotlight, especially given the debate on the skewed ratio between his wickets at home and abroad, Ashwin certainly took it upon himself to silence them all. It's been a long way off since that South African sojourn, where he had gone wicketless for more than 35 overs and the then familiar shadow of doubt would painfully loom every now and then, especially when India played outside Asia.
The fastest to reach 250, 300 and 350 wickets in Test cricket, Ashwin was showered with praise by his teammates and the opposition after the Test here in Ahmedabad.

"He's among India's greatest match-winners ever and this is a tremendous achievement," opener Rohit Sharma said while England captain Joe Root too applauded the off-spinner for reaching the landmark. Skipper Kohli urged the cricketing fraternity to take notice of the off-spinner's achievements, calling him a modern day legend.
A slight change in action; an attempt to rediscover his stock ball; being vocal about the perceivable changes he sought in the game - lifting the seam of the SG ball, for instance; speaking up for his teammates and his team management's gameplan - like the recent debate over home advantage, has kept Ashwin more involved in the game than merely as a bowler.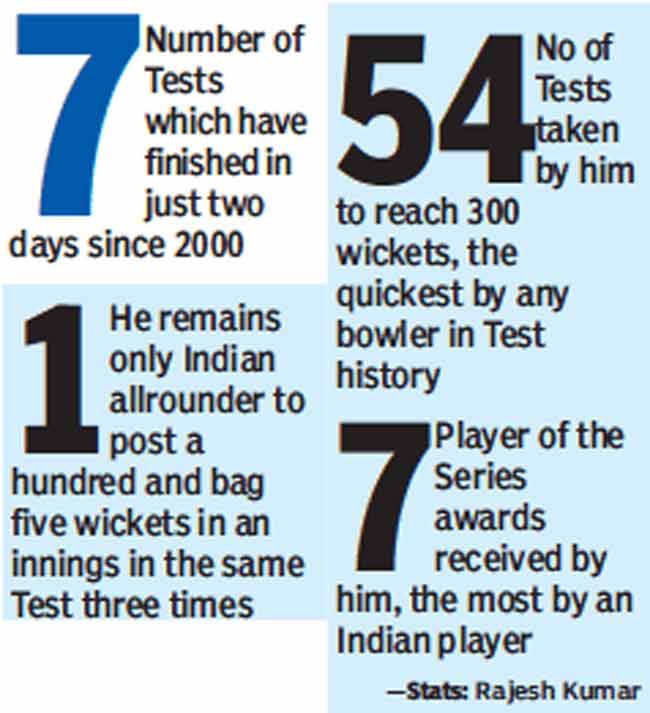 His batting, of course, being the cherry on that cake and those crucial knocks - in Australia and Chennai - have put him on the proverbial pedestal reserved for world class all-rounders.
"I felt like a hero," he said after the win in the second Test at Chennai, his home, where he was cheered by the local crowds in what turned out to be an exemplary performance.
Thank you!! I am truly humbled by all the wonderful wishes coming in! https://t.co/3MZLMaY5OH
— Ashwin 🇮🇳 (@ashwinravi99)
1614272390000
In Ahmedabad, the 'hero' in him was once again doing the talking. Ashwin now holds the record for the most Man-of-the-Series awards for an Indian cricketer and the second most 10-fors for India after Anil Kumble.
A huge movie-buff and often outspoken on societal concerns, the bowling all-rounder has come across as a 'thinking man's cricketer' over the years. The Tamil Nadu State Election Commission roping him in to catch the attention of citizens to create electoral awareness, where Ashwin advised voters to check whether their names are in the electoral roll, is a case in point.
💬 This body is ageing, but I won't be surprised if I surpass myself in the future: @ashwinravi99 👌🏻Confidence 💯… https://t.co/1miXiuSAGW
— BCCI (@BCCI)
1614271169000
An alumni of the much-respected Padma Seshadri Bala Bhavan school in Chennai, who later did his B-Tech in Information and Technology, he is clear there's a lot more coming up between now and next year with some serious Test assignments lined up for the Indian team at home and abroad.
Asked this was his best as a bowler, Ashwin said, "In 2015-16 everyone asked me (if I'm bowling at my best), the same in 2016-17. One thing is sure I've always wanted to improve. I won't be surprised if I improve further in the future."
Batsmen beware.
.@ashwinravi99 is a modern day Legend 🙌🏻 : @imVkohli 🔊#TeamIndia #INDvENG #PinkBallTest @Paytm https://t.co/AaQqI3QcUa
— BCCI (@BCCI)
1614266306000