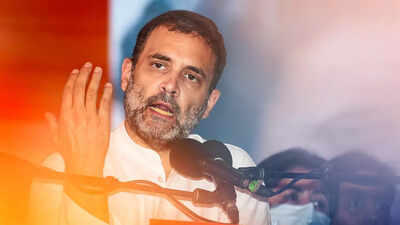 NEW DELHI: Congress leader Rahul Gandhi is likely to soon undertake a trip to Bastar on the invite of Chhattisgarh CM Bhupesh Baghel, after which he will take a final decision on the power struggle in the state where senior minister TS Singh Deo has demanded Baghel be replaced. Well placed sources said Rahul will possibly go on a two-day trip to the tribal area.
Baghel had invited him to the state when he was in the capital for talks amid Singh Deo's demand that he be given the reins of the state.
"Rahul has to take a final decision on the issue (of whether to replace Baghel)" and will do so soon, most likely after his visit, sources said. However, a party office bearer said, "He has not given his mind yet, which means it is an open issue." Baghel has been confident about his continuing in office, telling a TV interview that he has not been conveyed any directive to leave the top chair.
He said a three-day programme for Chhattisgarh trip has been sent to the Congress leader, who will soon decide on it. Deo staked claim to the top post, arguing that he was promised a split term with Baghel after the party stormed to power in December 2018.

FacebookTwitterLinkedinEMail