NCA bowling coach Paras Mhambrey on transition, grooming allrounders and educating youngsters...
NEW DELHI: Former India pacer Paras Mhambrey has been National Cricket Academy (NCA) head Rahul Dravid's trusted lieutenant over the past six years. He is in charge of India U-19s, India 'A' and a bowling coach at NCA.
As Indian cricket gears up for resumption of domestic cricket and junior cricket, Mhambrey offers TOI a peek into challenges ahead for the NCA to maintain the strong pool of cricketers which has seen Indian cricket through the pandemic in the last one year.
No conventional coaching manual at NCA...
"You need to work with what you have. We have some players who have not gone through the age group cricket and formal coaching. It's not about changing anything or going by the book, but just making a player more effective. We have to see that going by a coaching manual, you change something and then there's a chance of the player getting injured too."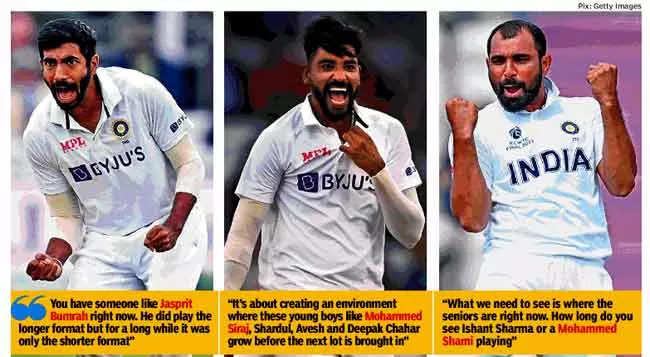 Educating upcoming players on workload with so much competition around...
Everyone, including Rahul (Dravid), sits with the players to discuss the stats and data that is available about the number of balls they bowled even in practice. You educate them saying that generally players tend to get injured two or three weeks from a certain point. For example, in 2017-18, Mohammed Siraj bowled a lot and he picked up a lot of wickets. There was a game in Bangalore that we were playing against South Africa 'A'. The trainers felt this was a good time to pull him back. Any player who's in and picking wickets wants to build on it obviously, opportunity gets created to play for the team. We explained to him why we are doing it and he finally got convinced.
Planning the pace-bowling transition for Team India...
What we need to see is where the seniors are right now. How long do you see Ishant or a Shami playing. We are looking at how much cricket this younger lot needs to gain that experience to pass on to the next generation. It's all about giving the younger enough experience. They need to play more. It's about creating an environment where these young boys like Siraj, Shardul, Avesh and Deepak Chahar grow before the next lot is brought in.
Challenges to groom all-format bowler…
We have kind of reached a point where we need specialist pacers for formats. We will be happy to lay a path maybe not for all three formats, but two formats to start with. You have someone like Bumrah right now. He did play the longer format but for a long while it was only the shorter format. But a lot of work goes on him off the field. If you have guys who are really ready to put in the hard yards to go through the workloads, I think you then can create an opportunity.
Fast-bowling allrounders...
It's always going to be hard. We don't have them at grassroots. At the U-19 level, we had a couple of them but they couldn't make it. We need to bring them under one umbrella and focus on them. Even the state associations need to work here. There is a definite challenge at the higher level that these allrounders worry about getting injured and that's why they don't put much stress on their bowling. They need to get the confidence from support staff that they will be taken care of. If they can work through it, the rewards are there.
Working on U-19 cricket with WC three months away...
The challenge is discussing individually what the particular kid has done in the past two years. There's no record. Some people were able to practice a little more than the others. Then the strength and conditioning comes in and the assessment will happen in terms of the fitness. We'll have to quickly assess in whatever timeframe available with us.