Tamil Nadu will go to assembly polls on April 6 and the elections will be held in a single day. Counting will be held on May 2 and along with the assembly elections, by-election to the Kanyakumari Lok Sabha elections will also be held on April 6, said chief election commissioner Sunil Arora on Friday.
Tamil Nadu assembly has a total strength of 234 seats and the present 15th assembly's term comes to an end on May 24. Kanyakumari byelection is due to the death of H Vasanthkumar, Congress MP due to Covid last year.
"Elections in Tamil Nadu will be held in a single phase and the nominations will begin on March 12 and go on till March 19. Scrutiny of nominations will be done on March 20 and last date of nominations will be on March 22," said Arora.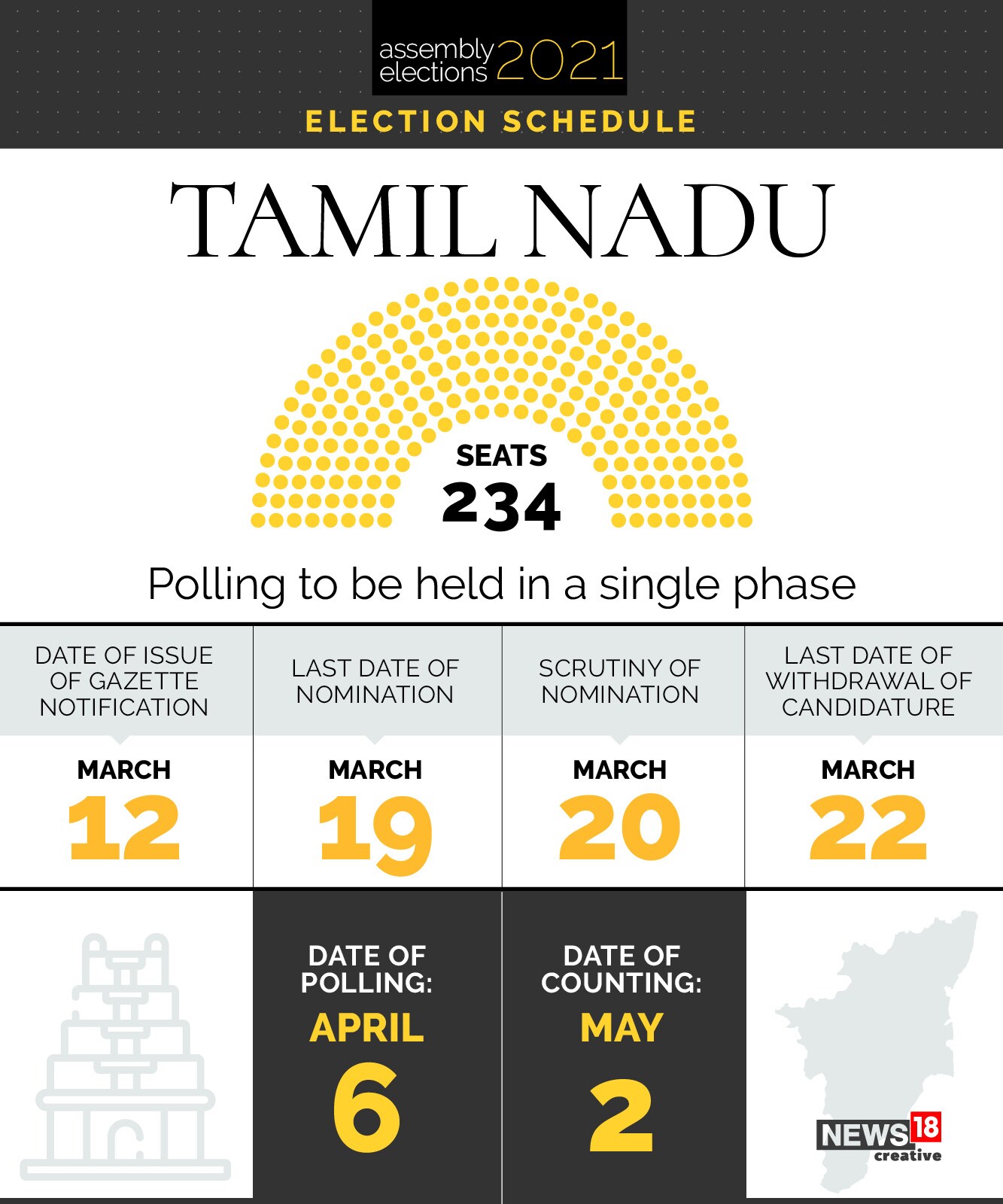 There will be a total of 88,936 polling stations and in each polling booth 1000 voters alone will be allowed, said the CEC. Compared to 2016 assembly elections, which had 66,000 polling booths, the number of polling booths have increased by 36%.
The Election Commission has also appointed general observers and expenditure observers. "Alok Vardhan IAS and Darmendra Kumar IPS will be general observers and Madhu Mahajan and Balakrishna, retired IRS officials are appointed expenditure observers," said Arora. Mahajan was the expenditure observer during the 2019 Lok Sabha elections in Tamil Nadu.
In the Union Territory of Puducherry, the elections will be held on April 6 and counting will be held on May 2. Here too the election will be held for 30 seats and on a single day, said the CEC.
Balakrishna was the principal director of the investigation wing of Income Tax department and played a main role in the gutkha searches in which health minister C Vijaya Baskar and several other police officers have been questioned.