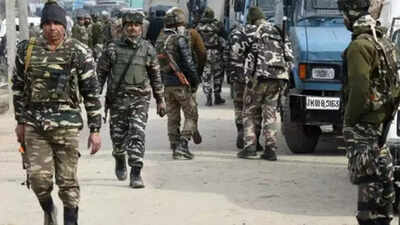 SRINAGAR: A group of five heavily armed infiltrators were spotted in north Kashmir's Uri sector on Thursday morning, of whom three were killed in a "brief exchange of fire" while the other two managed to flee across the Line of Control. A huge cache of ammunition was recovered near the LoC. This was the second infiltration bid since September 18.
At 6am on Thursday, the Army spotted a group of militants in Hathlanga area of Uri and challenged them. A gun battle ensued in which three militants were neutralized. One of the militants has been identified as a Pakistani national while the identity of the other two is being ascertained, General Officer Commanding, 15 Corps, Lieutenant General D.P. Pandey said in a press briefing.
The Army had foiled an infiltration bid from across the LoC in Uri on September 18 when six terrorists were pushed back. Since then combing operations had been launched in the area. "The September 18 bid was foiled and the militants were pushed back. The combing operation in Uri has also been called off," the officer said.
The Army's Uri-based commanding officer said that the three slain militants were carrying a huge cache of arms and ammunition that included five AK-47 rifles, seven pistols, 5 AK magazines, 24 UBGl grenades, 38 Chinese grenades, seven Pakistan made grenades, Rs 35,000 in Pakistani currency and some eatables.
Asked if the infiltration bid had any Afghanistan connection, Lt. General Pandey said that the Army was alert as it 'was anticipating a change in the behaviour of Pakistan in September.' "We were expecting infiltration ahead of the onset of winter. I would not like to connect this with the geopolitics. We are ready to foil all bids," he maintained.
Inspector General of Police (IGP) Kashmir Vijay Kumar, who was part of the joint press conference on Thursday, said, "There is a change in strategy from across the LoC. The elements across the border were feeling frustrated by the prevailing peaceful atmosphere, rising number of tourist arrivals, visits of Union ministers, and the peaceful situation after the death of Hurriyat leader Syed Ali Geelani."
"There is a new trend of hybrid and part-time militants, who are being given pistols to carry out target killings during evening hours. They resume normal activities after a day. Around 97 pistols were recovered from militants, which signifies hybrid militants are being promoted," Kumar added.
Militant killed in Shopian
Another militant was killed in a separate operation in Shopian on Thursday. He was identified as Anayat Ashraf Dar from Shopian's Keshwa. The Army recovered a pistol and ammunition from him. Police officials said Dar on Wednesday night had fired upon a civilian Jeewer Hameed Bhat, who was seriously injured and is in hospital.
The police said Dar was an 'active terrorist' and used to threaten people in and around his village with illegally acquired weapons. "While laying a cordon, the terrorist fired upon a joint search party. All night he was offered the option to surrender but he did not accept it. All civilians in adjoining houses were evacuated. Later, during the encounter the newly active militant was neutralised," the police said.

FacebookTwitterLinkedinEMail