This is PM Modi's fourth visit to West Bengal and Assam since January ahead of assembly elections which start ...Read More
NEW DELHI: Prime Minister Narendra Modi is on a day-long two-state visit to West Bengal and Assam to address public rallies days ahead of assembly elections. PM Modi on Thursday first visited Purulia in West Bengal and will be visiting Karimganj in Assam later in the afternoon.
In Purulia, addressing a rally, PM Modi said that the "double engine government" which will have one engine in Delhi and the second in Bengal, will duly prioritize Purulia's development. "Purulia is a backward region thanks to TMC", said Modi.
This is PM Modi's fourth visit to the two states since January. In his last visit in February, PM Modi had inaugurated a string of oil, gas, metro and railway projects alongside roads and colleges.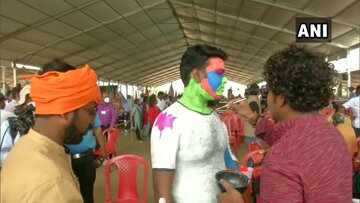 BJP workers prepare ahead of PM Mod's rally at Purulia, West Bengal.
Highlights from PM Modi's speech in Purulia, Bengal:
* Purulia is facing a huge water crisis due to the inaction of the Trinamool government. They have given Purulia, migration and the identity of being one of the most backward regions in the country.
* In May this year, the ones who run the syndicate will be defeated.
* TMC days are over. Even Mamata didi knows this but she says, 'khela hobe'.
* Didi says, 'Khela hobe' but BJP says, 'Vikas hobe'.
#WATCH: Prime Minister Narendra Modi, in Purulia, says, "Didi bole khela hobe, BJP bole chaakri hobe. Didi bole khe… https://t.co/ysrNj83QPF
— ANI (@ANI)
1616050720000
* People of Bengal has made their decision and watching these intentions, Didi is venting her anger on me. She is also angry at BJP workers.
* But we still consider Didi as one of India's daughter. When she got injured, we prayed for her. May she get well soon.
* But Didi has never considered the Dalits, the adivasis of the Bengal as her own. TMC's 'tolabaaz' (extortionists) only interfere with the development work.
* When Bengal was struck by Amphan, Didi said that those who want government relief will first have to submit a portion in TMC's party office. Even in such distress, TMC continued its 'cut-bandi'.
* TMC means 'Transfer My Commission'.
* It was Atal Ji's government that created a separate ministry for the protection and welfare of tribal interests. The central government today has created a separate budget for tribal interests. Many schemes have been launched.
Both states are important for Bharatiya Janata Party (BJP) which is the ruling party in Assam and seeks to retain a second term in the Northeastern state riding on its five-year-old government's achievements.
Whereas in West Bengal, BJP has managed to position itself as the primary opposition to Trinamool Congress' (TMC) 10-year rule and aims to enter the state assembly where currently it has zero seats.