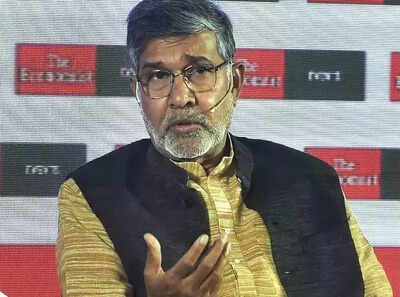 NEW DELHI: In a significant step aimed at bolstering the outreach on critical child rights issues like combatting child labour, UN Secretary General António Guterres has appointed Nobel laureate Kailash Satyarthi as one of its 17 Sustainable Development Goals advocates, a role that is integral to advancing the 2030 agenda for sustainable development.
The UN announced the appointment late Friday night, days ahead of the 76th session of the General Assembly. In a statement, Guterres said, "We are at a pivotal moment. The choices we make now could put us on a path towards breakdown and a future of perpetual crisis; or breakthrough to a greener and safer world." He added that the SDG advocates should use their considerable spheres of influence to reach new constituencies to act now and keep the promise of the SDGs for people and the planet.
The UN Secretary General's 17 SDG advocates are strong public figures who can use their voices and platforms to bring to life the vision of a better world and call for scalable action to achieve the SGDs by 2030.
Speaking to TOI after the appointment was announced, Satyarthi said this responsibility has been given at a critical time when the world tragically saw the first rise in child labour in two decades during the pandemic. "We need urgent measures to get governments to focus on the most marginalised children. With 160 million now in child labour, and millions more at risk due to the impacts of Covid-19, this increase derails the world's promise to eliminate child labour by 2025 as committed to in UN SDG 8.7 and therefore puts the entire 2030 Agenda for Sustainable Development at risk," Satyarthi added.
At the first meeting with the UN Secretary General on Saturday, he plans to reinforce that the next two years will be very critical for children and there is an urgent need for a Social Protection Fund for children of low income countries to begin with. In the Indian context, he cautioned that trafficking is on the rise and there is need to allocate more funds for child protection services.
Other new advocates appointed by the UN include STEM activist Valentina Muñoz Rabanal, at 19 years-old, who has helped write the first Artificial Intelligence policy in her home country, Chile. Brad Smith, Microsoft's president as an advocate will focus on bridging the digital skills gap and highlight the importance of setting bold goals focused on environmental sustainability. Pop super stars BLACKPIN is also a new SDG advocate. As the most subscribed pop artist on YouTube with more than 65 million subscribers globally, phenomenon, BLACKPINK has engaged with COP26 to encourage young people to take climate action to protect the planet.

FacebookTwitterLinkedinEMail