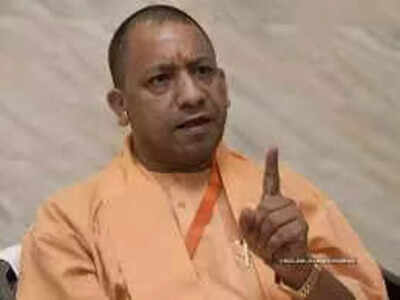 NEW DELHI: Confident of breaking the jinx in UP where no chief minister has been voted to power for a second consecutive term in the last over 35 years, Yogi Adityanath on Wednesday declared that he would be back as UP CM in 2022.
"I will come back. I am here to break the record," Yogi declared, while speaking at the Navbharat Navnirman Manch-Uttar Pradesh, organised by Times Now Navbharat.
"As per the current trend, BJP is not going to get less than 350 seats. The party will fight the election on the agenda of development and nationalism," the CM said.
Reacting to Samajwadi Party chief Akhilesh Yadav's statement that his party would win 400 seats, the CM said: "Akhilesh doesn't know counting. He must have been told by the survey team that SP is behind on 400 seats. However, he said the wrong thing. He knows who is coming to power."
"UP has benefitted from BJP's double-engine government at the Centre and in the state. Development over the last four-and-a-half years has been more than what was delivered by the Congress, SP and BSP governments put together. In the coming election, we should be able to talk about our works like public welfare schemes and employment," he said.
Yogi said ' rashtra dharma' was important and one should be dedicated to the country. "We have been successful because our schemes were for all and not aimed at benefiting a caste or community," he added.
Downplaying the change of guard in various states, including Gujarat, the CM said: "BJP is a democratic party and its culture is that the party is bigger than the person and the country is bigger than the party. BJP has a style of functioning and does not believe in parivarwad(nepotism). Party workers do whatever they are asked to do. Post is not important, work is."
Hitting out at the opposition, the CM said that SP was known for loot and misrule.
"If they are supporting minorities, why didn't SP speak out against triple talaq and why no action was taken against its legislator who supported Taliban? People will reject SP which is sympathising with those who illegally occupied properties," Yogi said.
"My government withdrew cases filed in connection with the Muzaffarnagar riots because SP had sponsored the riots and filed fake cases against innocent people. The action should have been taken much earlier," he added.
Yogi said Mayawati was forced to publicly declare that if elected, she would not build any more statues of herself but focus on development.
Attacking the Congress, he said: "When Rahul Gandhi goes to Kerala, he speaks against UP. When he goes abroad, he speaks against the country."
Asked about AIMIM chief Asaduddin Owaisi's entry into UP politics, the CM remarked that he had come from 'Bhagyanagar' and was free to try his bhagya (luck) in UP.
He lashed out at his critics who claim that the government mismanaged the Covid-19 crisis and said there were different kinds of flu that plagued the country since 1947 (like dengue and swine flu) but no vaccine or medicine could be made available for it.
On the recent ban on the sale of meat and alcohol in Mathura, the CM said Mathura was one of the seven most important pilgrimage sites for Hindus and the decision was based on people's demand. "In any case, if people are vegetarian they will remain healthy. People can do what they want in their homes but not in public places," he said.

FacebookTwitterLinkedinEMail